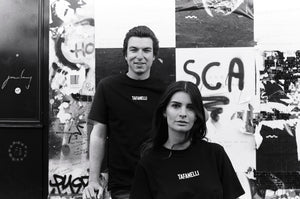 Storia
Quand un Corse fréquente le Saint Martins College of Art and Design de Londres, cela donne TAFANELLI (nom Corse de jeune fille de la mère du créateur).
 Un subtil mélange de classe à l'anglaise, d'aventure, d'amitié et d'odeur de maquis. Matthieu Guégan, créateur de cette marque sportswear chic, lui insuffle son énergie et son talent. 
 A l'origine, il y a ce village corse de Montemaggiore, son authenticité et la force des liens qui s'y créent.
 Puis viennent Londres et le COVID qui a lancé Matthieu dans la création d'un tee-shirt : le Quarantinos.
L'intégralité des bénéfices ont été intégralement reversés aux services de réanimation saturés pendant le COVID-19 avec One-O-One
Un succès que la gamme Quarantinos perpétue. Les collections Maquis et Squadra l'ont rejointe, hommages aux origines et à cette communauté qui s'est reconnue dans l'esprit de la marque. 
 À porter en sortant du PABLO à Saint-Tropez ou pour manger une "fameuse" chez MABROUK Rue Réaumur à Paris, TAFANELLI ne vit que pour et par celles et ceux qui la porte.